Telehealth
Recruiting Services
AlediumHR Advantage
Telehealth Recruiting
---
As a telehealth staffing company, you want a partner that understands your industry and aligns their knowledge and experience with the appropriate resources to recruit the "right fit" for your organization. Hiring telehealth professionals is a very stringent process that requires an absolute attention to detail to ensure candidates have the right background, experience, certifications and education.
AlediumHR' s first step in telehealth staffing is aligning your hiring needs so we can clearly define your requirements and objectives; your organizational gaps, and what you need us to accomplish to ensure the recruitment process is successful. We recognize your need for healthcare professionals that replicate your organization's culture, goals, and values, in providing exceptional patient and customer care.
The process of partnership, research, vetting, and interviewing can lead to securing qualified candidates in as few as 2 weeks dependent on the types of positions and job locations. Typically, we can have candidates accepting a role within 30 to 45 days from the start of the search.
Securing a successful candidate who becomes a productive member of your team is our primary objective. To that end, AlediumHR conducts a very thorough screening, assessment, background, and reference checks independent of what you may administer before hire. This is another component of our services that assists you in our building on a partnership that truly adds value to your organization on an ongoing basis.
---
---
The Telehealth Industry
Telehealth is transforming healthcare. Patients are starting to insist healthcare professionals offer state-of-the-art technologies. Just as with on-line banking, virtual visits, remote monitoring and other high-tech services are expected to maximize efficiency and convenience, while enhancing quality of care.
According to The American Telemedicine Association, approximately half of the hospitals in the U.S. have some form of functional telehealth operation. The global telehealth market is predicted to become a $36 billion industry by 2020 and will continue to grow at a rapid pace. Major healthcare institutions see telehealth as a clear priority for future success.
---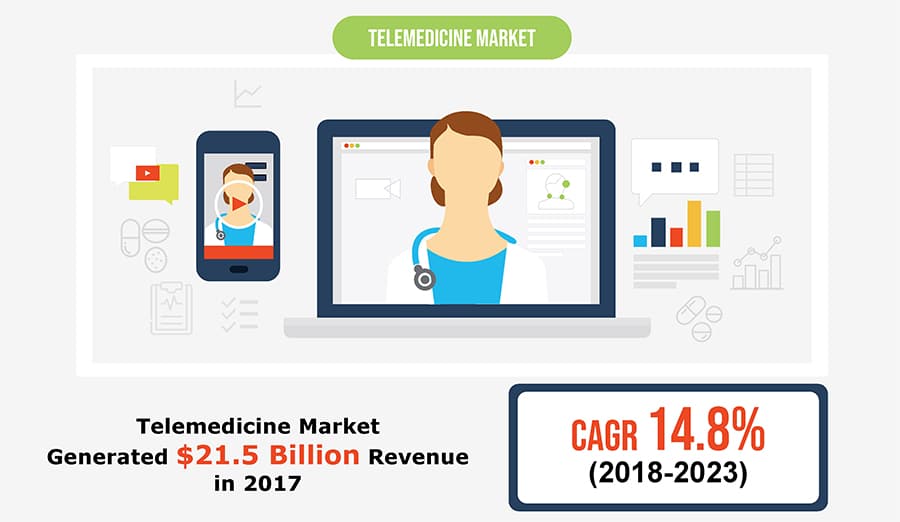 The global telemedicine market size reached $21.5 billon in 2017 and is expected to witness a CAGR of 14.8% during the forecast period (2018–2023). The reasons for this growth are the increasing healthcare cost, geriatric population, government funding and grants for telemedicine, medical tourism, prevalence of chronic and lifestyle-associated diseases, medical requirement in remote areas, and need for remote patient monitoring services in developing countries.
Positions Recruited
Physicians
Psychiatry
Telehealth Management
Instructors & Trainers
Site Coordinators
---
Nurses (RN, LPN)
Clinical Managers
Pharmaceutical Techs
Pharmacists
Hospital Administrator
EAP & Crisis Counselors
---
Physicians Assistants
Behavioral Health
Medical Assistants
Lab & Technicians
Program Managers
---
AlediumHR Represents Clients Across the U.S.
---